About Us - Foundations Plus in Utica, Ohio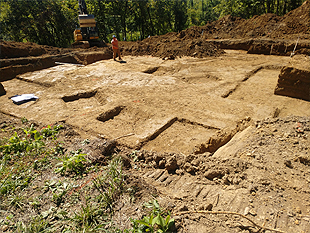 Foundations Plus in Utica, Ohio, has been a family owned and operated business since 1978. Mahlon Sr. & Emma Eash bought their first set of aluminum forms in 1978 to supplement the dairy farming income needed to support their family of ten children and to instill their values gained from their Amish background.
For over 25 years most the sons were directly involved with the daily operations of the business and as the grandsons grew up most of them also proudly worked for and alongside their grandpa.
In 2011 we lost Mahlon Sr. to a tragic car accident.
In 2014, Mahlon Jr and Erma bought the business and then also bought the farm buildings where Mahlon Sr. started Foundations Plus. Sadly, in 2017 we lost Mahlon Jr to a heart attack.
Erma, along with her sons Alex and Mahlon Spencer lll, proudly own and operate the business now. It is our intent to continue to grow the business while keeping the focus on the quality taught from our Amish heritage. We have learned from Mahlon Sr. and Mahlon Jr. over the years that it is vital in this business to focus on quality and not quantity. Quality & Customer Satisfaction is the hallmark of our poured wall business.
Our company motto was taken from 1 Corinthians 3:11 "Remember, there is only one foundation, the one already laid: Jesus Christ." (The Message) As He is the strong and sure foundation for faith which leads to life eternal, so we strive to reward the confidence you place in us by pouring walls that will stand secure for this present age.
We greatly appreciate your business and we look forward to serving your future concrete needs.
We are dedicated to serving our customers' needs. Our goal is 100% customer satisfaction. We strive to bring you the best in quality service. If something isn't right, please let us know.
For a free foundation estimate email us at foundationspluspouredwalls@gmail or call us at (740) 745-2773. You can also fill out and send us the "Request an Estimate" form below.